Day 06- Who or what is your inspiration, and why?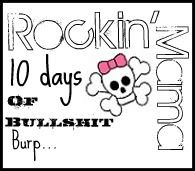 This one is kind of hard me. I don't have just one outlet of inspiration, or one person for that matter either. I guess I'll start with this.
My children are the biggest inspiration to me. Most days when I have felt like giving up, just a hug, kiss or an "I love you" from them shows me that I am doing the best I can.
Another inspirational person to me is my boyfriend, M. He has been the most amazing person over the last year of my life. He helped me get through a lot and helped me to reestablish my self esteem. Best man ever by far:)
Now my biggest inspiration by far is my mother. What an amazing woman! She is the strongest person I know. She has been through so much in her lifetime and dealt with everything to the best of her ability. She is the person who taught me to love, taught me respect and taught me pretty much everything I know about mothering. She raised me into a strong, kind hearted woman and I thank her everyday for all she has done for me!